oberlichter walk-on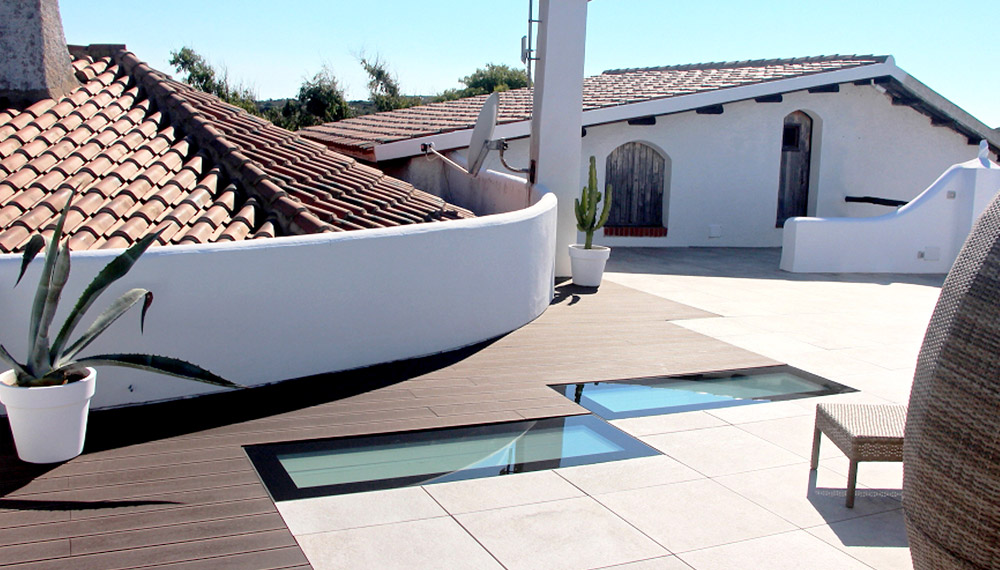 Walk-on designer skylight
An eye-catcher on the outside –
loads of daylight inside
The walk-on, rectangular skylight
Natural daylight for a pleasant atmosphere indoors
The rectangular floor glass SkyVision WALK-ON is an eye-catcher from the outside and inside. The flush-mounted skylight can be extended to form a continuous band of light without any length limitations.
WALK-ON floor glass offers … …
Dimensions of up to 4 m² per module
Module widths up to 2800 mm
Module lengths up to 2000 mm
An insulated substructure that can be adjusted by up to 750 mm in height
Anti-slip coating (optional)
Step-free accessibility as barrier-free transparent flooring
The indescribable sensation of walking on glass
SkyVision WALK-ON as a walk-on glass floor within buildings
SkyVision WALK-ON allows rooms where wall windows are impossible for structural reasons to be lit by daylight from the room above, allowing stairwells and bathrooms without windows to enjoy daylight. Walk-on glass is an ideal design element for open space architecture. Uninsulated glass is sufficient for installation inside buildings.
Prices for walk-on glass
Calculate the price of a rectangular WALK-ON skylight in our shop or ask for a free individual quote.
Uw value (double):  1,06 W/m²K
Ug value (double):  1,30 W/m²K

Uw value (triple):  0,65 W/m²K>
Ug value (triple):  0,70 W/m²K
Airtightness: Class 4, E600 Pa and above
Water-tightness: Class E1200 (EN12208)
Sound insulation: From 34 dB noise reduction (EN/ISO 717- 1/A1)
Light transmittance (tL):  Double-glazed, approx. 79 %, triple-glazed, approx. 67 %
Total energy transmittance (g):
Double-glazed, approx. 59 %,
Triple-glazed, approx. 48 %
Width: 250 – 2800 mm
Length: 250 – 2000 mm
Height of the substructure: 210 – 750 mm
Maximum surface area: 4 m²
Our SkyVision skylights bear the CE mark in accordance with DS/EN 14351-1. The CE mark was awarded by the accredited institutes Teknologisk Institut and Delta and refers to tests performed in accordance with EN 1873, DS/EN ISO 717-1, EN/ISO 10077-1 and -2, EN 673, DS 418, EN 12207 and EN 1026. VITRAL is certified in accordance with ISO 9001:2008.
High-quality double- and triple-glazed thermal glazing in accordance with DIN 18008-2 and DIN 18008-5 (non-insulated glazing is sufficient for use inside buildings)
Insulated substructure for optimal thermal insulation
All panes have a 115 mm wide, black silk-screen printed edge that runs around all sides to provide UV protection.
The glass support is supplied in RAL 7043 (Traffic Grey B). The inside of the substructure is RAL 9010 (Pure White). Other RAL Classic colours are also available at an additional charge.
The glass is also available with opal lamination (at an additional charge). The values of the double-glazing change by approx. 57 % for light transmission (tL) and approx. 35 % for total energy transmission (g).
Solar control glass / tinted glass
The following optional extras are possible for an additional charge:
We offer a 5-year product warranty on our SkyVision skylights.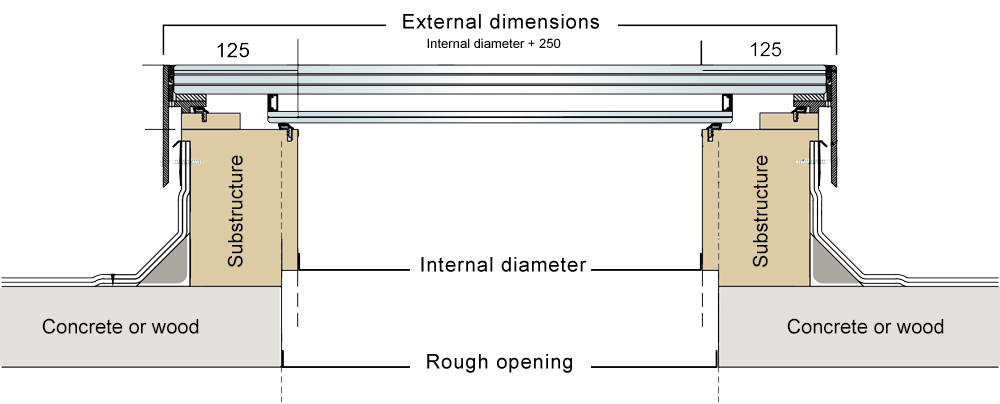 Downloads WALK-ON – rectangular skylight
Technical drawings (single-glazed)*
Technical drawings (double-glazed)*
Technical drawings (triple glazed)*
**Liquid synthetic sealant 
Tender documents WALK-ON double glazed*
Tender documents WALK-ON triple glazed*
* (only available in German)